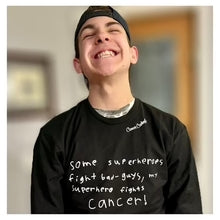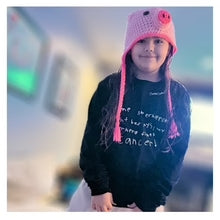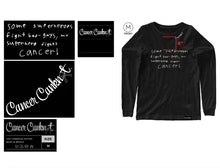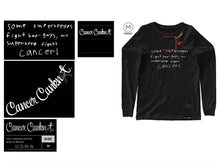 Size Chart
Youth: fits wrists 4-5" in diameter
S-M: fits wrists 5-6.5" in diameter
M-L: Fits wrists 6.5"+ in diameter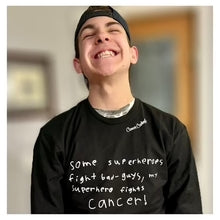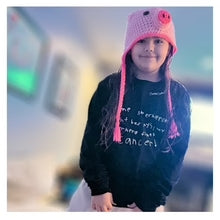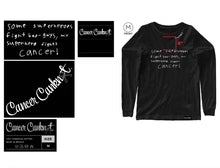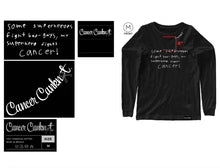 A little back story on how the shirt was created: 
Bryce was three years old at the time Eric was diagnosed with brain cancer in December of 2011. A few years after Eric was diagnosed, and having watched his dad "fight cancer" the previous couple years, Bryce wrote on a piece of paper "some superheroes fight bad-guys, my superhero fights cancer!" After recently coming across that original piece of paper Bryce wrote his note on, we knew we had to somehow share his positive message with the world...and now, almost a teenager, Bryce wears his original design proudly in the featured photo you see here on the website. Amazingly, he also gets to share the sentiment of his dad being a superhero with his sister, Erica who was born a few years after Eric was diagnosed - a true blessing. 
As with all of our Cancer Canknot products, 100% of profits are donated to cancer research. 
The sizing of the shirts runs a bit small. For reference, Bryce is wearing a Sz. Medium and is 5'9" and 145lbs. and Erica is wearing a  Sz. Small and is 4'5" and is 95lbs. Backside of the shirt is blank.